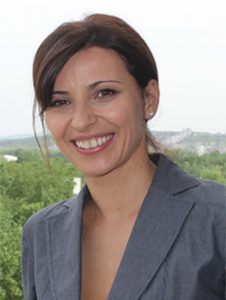 JASMINKA OLIVERIC YOUNG
governance / research / dialogue
Ms. Jasminka Young is a geographer with two master degrees. She holds MSc in European Politics and Policies from KU Leuven and MSc in Management and Business with focus on environmental management. Jasminka completed postgraduate specialization in diplomacy and international affairs. Currently she is a PhD Candidate at the KU Leuven Public Governance Institute.
Jasminka has a significant professional experience in public sector and international organizations.  She worked with Government of Serbia as policy advisor. She was appointed by the Ministry of Foreign Affairs to represent Serbia in many international working groups including UN Global Forum on Migration and Development and Council of Europe Committee on Migration in Strasbourg. Also, she worked with the Organisation for Security and Cooperation in Europe and United Nations Development Program.
Jasminka's area of expertise includes climate governance, policy entrepreneurship, policy evaluation, EU integration, environmental management and circular economy. Her consultancy work and research focuses on governance issues and synergies of climate, energy and environmental policies in the EU context.
She is author of the book "Application of EU Environmental Standards in the Serbian Economy".